Instagram and Facebook can be a great way to promote your products and attract visitors to your website. Crossposting between the two can save you time promoting your business online. It can all seem like a lot though so let's try to break down the easiest ways to connect the two.
What is Crossposting?
By linking your Instagram account to your Facebook profile or page, you can streamline your social media presence and effortlessly share ( crosspost ) your Instagram posts to your Facebook audience. One of the great benefits of using Meta Business to crosspost is that we can update both social media platforms (Facebook and Instagram ) from just one profile so we don't have to post the same thing twice.
This is all now managed through the Meta Accounts Centre under what they call connected experiences.
In this article, we assume you already have a Facebook business page set up but don't worry Instagram will automatically prompt you to set one up if you don't have one. So grab your phone and let's dive right in.
Method 1: Meta Accounts Centre
Before we start, you won't be able to crosspost stories or posts from Instagram to Facebook until you've set up the Accounts Centre. When you set up your Accounts Centre, you'll be prompted to log in to your personal Facebook account.
How to connect your Instagram and Facebook account in Account Centre.
Click your profile pic in the bottom right to bring you to your Instagram profile page.
Click Menu in the top right > then click "Settings and privacy".
Tap "Accounts Centre".
Tap "Add Facebook account" or "Add Instagram account" and follow the on-screen instructions.
From here you can click on "Connected experiences".
When you set up your Accounts Centre, you'll be prompted to log in to your personal Facebook account. This is required to connect to the Facebook business page that you manage.
Once you've added your accounts to the same Accounts Centre, you'll have the option to share a post to Facebook from the same screen where you add a caption.
Method 2 - Meta Business Suite
From Facebook: Link accounts from Meta Business Suite on Desktop.
Meta Business Suite is a really handy way of managing business posts. Go to https://business.facebook.com/ to access it or you can access it from your business page on Facebook.
Step 1:
Click on your logo in the top right to and click switch to change from your personal page to your business page.
Step 2:
In the left-hand menu under More Tools select Meta Business Suite.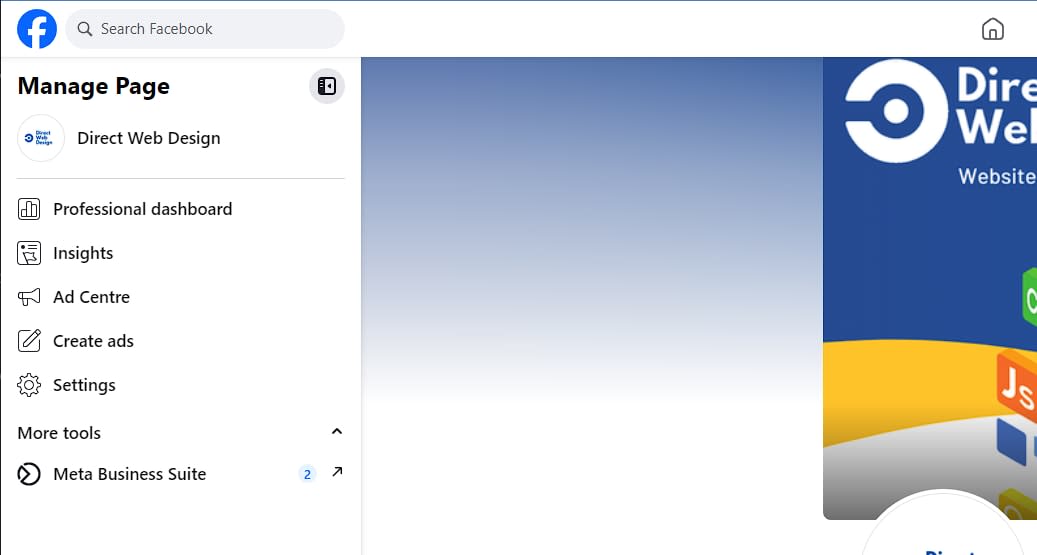 From here you can: Create Posts and Stories, Advertise and Create Reels.
Step 3:
From inside the Meta Business page, the easiest way from here to connect Instagram is to click on the Connect Instagram link at the top of the page just above the "Create Post Button".
Alternatively, you can do it from settings as well. To do this:
Click in the bottom left menu on "settings".
Then under "Profiles", click on the profile you wish to use and on the right under Connected Assets click Connect Instagram
Then click "Add Instagram Account".
You'll then be prompted to log in to your Instagram account to connect it.
Ok hopefully that worked for you but it can be very complicated at times.
Unfortunately, it doesn't always go that smoothly.
Here are some problems I've encountered in the past.
Problem: When you try to connect to Facebook the Instagram app gets stuck on the loading screen.
Solution: Try clearing the Cache on your Instagram App.
If you use an Android device, you can clear Instagram's cache in a few simple steps:
Open your Android "Settings" page.
Tap "Apps" or "Apps and notifications".
Tap "Manage Apps" and Scroll to or search for Instagram on the list of installed apps.
Tap "Instagram" > "Storage."
Tap "Clear data." or "Clear cache"
This has worked more than once for me in the past so hopefully, it does for you too.
Know what account you're connecting. The difference between personal and Business accounts.
Make sure you can differentiate between both your personal account and your business account. I've seen a lot of times people connecting the wrong ones by accident so make it your business to tell them apart. If your account is still a personal Instagram account go into settings and privacy and the Switch to Professional Account option will be listed.
Conclusion
Hopefully, your Instagram account is now successfully connected to your Facebook page. This means that every time you share a photo or video on Instagram, you have the option to simultaneously post it on Facebook, expanding your reach and making it easier for your followers on both platforms to stay updated with your content.
Remember to use this connection wisely and consider your audience on both platforms. Consistent and engaging content will help you make the most out of this social media integration. Enjoy sharing your moments with the world on Instagram and Facebook!